Brief introduction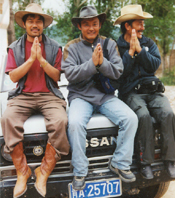 West-Eastours.com has been a pioneer in the area of specialty China adventure and sightseeing tours since 1985. We are a category a first class company that provides worldwide travel services specializing in special tours.
Over the years, West-Eastours has dedicated itself to providing high quality and reliable travel services and building a strong management team. We have earned an excellent reputation both at home and abroad and have developed an extensive network of domestic and foreign partners. This network of travel services allows us to meet our clients specific travel needs and provide a wide variety of accommodation, transportation, sightseeing, shopping and entertainment services.
In order to maintain our high level of customer service, West-Eastours has created a highly skilled and trained team of tour guides and interpreters. We can provide travel services in English, French, German, Japanese and Tibetan from our seven departments with twenty seven staff. Our office also has computerized booking capacity, email and internet access and our own home page.
West-Eastours believes in the principle of the "Guests first" and we put our customers needs first in everything we do. We strive to provide the best in safety, comfort and pleasure all at a reasonable price. We warmly welcome travelers from around the world and hope you will join us!