Train Trip through Central Tibet to Far East Tibet
Amdo & Kham (Qinghai) Grasslands Tibetan Horse Race & Shaman Festivals
Day01 --Arrive at Chengdu (D)
Centrally located in the western Sichuan Plain, Chengdu is renowned for its fertile land and agricultural wealth as well as its popular and tasty cuisine. There is something for everyone in this city that Marco Polo described as China's Paris and you will find it both traditional and modern with department stores selling the newest international fashions. Buddhist and Taoist Temples are full of heavy incense with chanting monks and vendors hawking everything from pirated software to chicken feet. People are everywhere as life happens on the streets, in the markets, alleyways, restaurants and roadside shops. There are teahouses full of ear pickers and songbirds. Chengdu is also considered as one of the important eastern gateways to central Tibet for centuries. Depending on your arrival time, we can arrange you free at leisure at the hotel after your long flight or if you like we can arrange an easy city tour. Overnight 4 star hotel, Chengdu
Day02 --Chengdu / Lhasa (B/L/D)
This morning we fly to Lhasa, on arrival we will transferred to our hotel and then to have our lunch. If Tibet is the "Roof of the World", then its capital, Lhasa, is certainly the "City of the Sun". It stands on a plain at over 13,000 feet (3700 m.) above sea level, surrounded by towering mountains. Lhasa is a town bathed in sunlight. In the afternoon, we will have easy sightseeing tour to Norbulingka which has served as the summer residence since the 7th Dalai Lama. Norbulingka means the "Garden of Treasures".Overnight at the LhasaYak Hotel in Lhasa.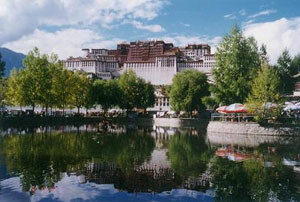 Day03 --Lhasa (B/L/D)
This morning we have a leisurely breakfast in the hotel restaurant which offers a view of the Potala Palace. After an acclimatization rest in the hotel we visit the Jokhang, the monastery considered to be at the center of Tibetan Buddhism. Innumerable pilgrims come for worship everyday. The temple, built in 647, is the earliest wood-and-masonry structure still existing in Tibet. We'll have time to walk surrounding Barkhor Street lined with shops and outdoor stalls owned by Tibetans. Everything to supply the pilgrim's needs can be found here: otter skins, brocaded fabric, prayer flags, jewelry of coral, turquoise and amber, leather pouches and handmade felt boots. Overnight at the Lhasa Yak Hotel in Lhasa.
Day04 -- Lhasa (B/L/D)
In the morning, we visit the Potala Palace, which was constructed in 637 by Songtsen Gampo, the first king of the united Tibet. It later served as the winter residence of the Dalai Lamas. Then we drive to Sera monastery. Built in 1419, it has always been an important Buddhist seminary. As roses are planted everywhere in the monastery, it is also called the "Court of Wild Roses". Today 200 lamas still live here. We may see the lamas doing "scripture debating". Overnight Yak Hotel.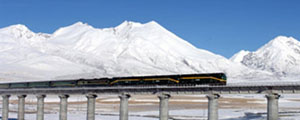 Day05 -- Lhasa / Golmud (B/L/D)
This morning we will board on the train departure from Lhasa to Xining shared 1st- Class 4-berth soft sleepers train compartments. Enjoy the highland scenery along the Qinghai-Tibet Railway, which is the longest railway running on the world's highest plateau. We'll see the beautiful grasslands rimmed by snow-covered mountains sprinkled with herds of yak and sheep grazing under the blue sky. Clean rivers and lakes look like mirrors. Nestled on the lush tundra are countless different tiny highland flowers. The highest point will be Tanggula mountain pass (elevation 5200m,) this is where the Yangtze River originates. Then suddenly the scenery changes to the Gobi desert with its huge wild, dry plant less iron-colored mountains. Overnight in the train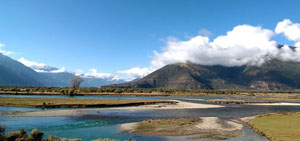 Day06 -- Arrive at Xining (B/L/D)
In the morning, we arrive at Xining (Ziling), the capital city of Qinghai Province. The city is situated on the edge of the Tibetan Plateau at 2200m. Today it is a quite modern city and there is little left of the old walled town that used to be the main trading station between China and Tibet and entrance to the Silk Road. The population today is Chinese, Mongol, Tibetan, Muslim and Tu, and three important rivers: the Yangtze, Yellow and Mekong originate from this province. After lunch, free at leisure after your long train journey or we can arrange an easy city tour. Overnight Xining 4 star Hotel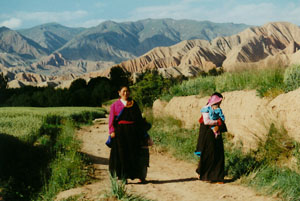 Day07 -- Xining / Madoi (Mato) (B/L/D)
It is a fascinating journey across a great variety of landscapes, passing by Kokonor, the biggest holy lake of Tibet and the largest salt lake in China. It covers an area of 4581 square km. (2,844 sq.m.). In May of 1578, King of the Mongols, Altan Qan gave the title Dalai Lama 3 to Sonam Gyatso at the east shore of Lake Kokonor. This was the start of the "Living Buddha" system of Gelukpa. After sightseeing by this beautiful lake, we drive over a sea of sand with huge dunes and a surprising eroded landscape of strange shapes. We drive through a large, flat desert basin where no any rain falls for a long periods. Mato, where we stay, standing at approximately 4200 meters (13,776 ft.) is one of the highest points on this journey. It is an outback frontier town and is an administrative centre for the Golok prefecture. It can be very cold on the windswept plateau. White clouds scud across the blue sky, sometimes quickly changing to grey. This can mean the occasional snow storm, which passes as quickly as it came. Overnight in Mato at the best facilities available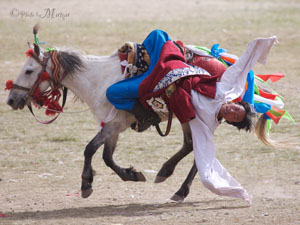 Day08 -- Mato to Yushu ( Jyekundo) (B/L/D)
Drive 360 km. to Jyekundo: alt: 3700 m. (12,136 ft.) Today's driving is exciting; we pass the first bridge of the Yellow River, and then the famous mountain pass Bayankala at elevation 5080 m. (16,662 ft.) where we will throw Prayer papers into the wind and shout "Lha Jia Lo." in thanks for a safe journey across this high point. Passing the upper reaches of the Yangtze River, these landscapes present an amazing picture. Under the blue sky with white clouds you will see mountains decorated with pray flags, beautiful grasslands embellished with flocks of yak and sheep, nomad's black and white tents and the colorfully dressed Golok and Khampa people. Lunch is at a typical frontier town and we will probably see nomadic girls wrapped in wool chubas wearing yellow amber pieces on their long black hair, contrasting with blue turquoise. As we approach Jyekundo the hills are a rich green and we note a number of monasteries, perched high on the cliff face, painted in earth colors. Jyekundo is the capital of the Yushu Tibetan Autonomous Prefecture. This region is known for the monasteries belonging to Sakyapa and Kagyu sects.Overnight Yushu Hotel*** with facilities in the rooms and hot water for shower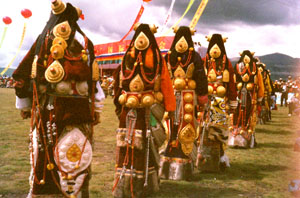 Day09/10 -- Yushu Horse Festival (B/L/D)
Today is the opening day of the Tibetan Horse Fair. Nomadic families and monks from the surrounding monasteries dressed in their red robes and finery drive or ride into the camping ground and set up their tents for the festival. Everybody was dressed in his or her best chubas and jewelers. Itinerant peddlers come with their wares and local traders set up a big market. There is an opening parade of horsemen, floats from the monasteries, dressed in their finery and even costumes used
for the lama dances. One of the most popular programmers during the festival is Tibetan dancing. Costumed girls and men whirl their long sleeves flying. The men's boots stamp out a strong rhythm and their ankle bells ring; the crowds roar their approval. The crowd also cheers Tibetan singers singing well-known melodies. Perhaps the most popular events are horse racing, acrobatic riding and shooting. Tibetan are fantastic horseman and the speed of the small of their steeds is phenomenal. Recently competitions have been held for the best local costume. This gives a chance for men and woman to wear their smartest clothes and oceans of jellerys. As well as watching the various activities it is very pleasant to stroll round the fair and meet the local people who often generously invite you to tea and delicacies in their tents. Overnight Yushu Hotel***
Day 11 --Jyekundo (B/L/D)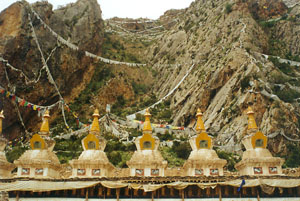 Drive about 20 km to the Lerba Mani Valley. Here there are countless Mani stones which have been left in the very clean stream water. After a local person's death, the family seeks a Living Buddha's advice about a ceremony. They are told to place a certain number of Mani stones into this small river. The swift water runs over the rocks inscribed with the deceased's name and this helps to cleanse the dead person's soul so they can be reincarnated for the next life as quickly as possible. The river's melodic sound also helps the dead to be reincarnated to a new life. You can also see many very old rock paintings on each side of cliffs in this small valley. Some of them were done during the 7th century when the Chinese Princess Wencheng, future wife of Tibetan king Songten Gampo, passed through the valley. Overnight at the Yushu Hotel in Jyekundo
Day12 -- Jyekundo / Mato (B/L/D)
We drive back to Mato for overnight. Overnight local best hotel with facilities.
Day13 -- Matoi / Machen (B/L/D)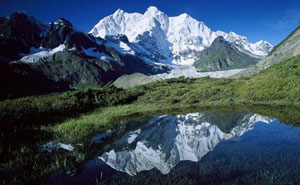 It is an interesting drive to Machen, the Tibetan Golok capital, an important stopping point for the ancient caravans that passed through Xining and on to Lhasa. The Goloks in the past were the most feared Tibetans who live nearest to wildest nature for thousands of years. If the weather is fine we should see Amnye Machen, once thought to be higher than Mount Everest. In the 1960's the height was fixed at 6282 m.(20,604 ft.). Amnye Machen is the sacred home of the protector deity Machen Pomra, revered by Bonpo and Buddhists alike. It is a day of wonderful "skyscapes" and rolling pastureland grazed upon by sheep and yaks. We'll picnic on the open plateau among the wild flowers. We encounter a great variety of landscapes; from a sea of sand with huge dunes and a heavily eroded landscape of strange shapes, to pastureland. This is where nomads can be seen herding their flocks of sheep, living for the summer in black yak hair tents. We will stop at a monastery en route and admire the huge lhatses of colored flags and spears. These are refurbished every year by the men of the family in honor of the Mountain Gods. The altitude increases to 3800 m. (12,464 ft.) here but we shall be acclimatized as we have driven higher slowly. Overnight local best Hotel with facilities.
Day14 -- Machen / Padma (Banma) (B/L/D)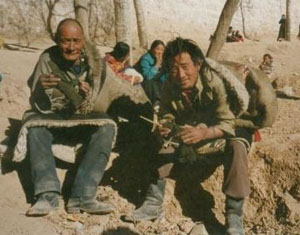 If you want to have an experience of a real wild area, today's 320km driving will make you satisfactory, we will pass over at least three big mountain passes with altitude over 4200 meters, decorated with different colored pray flags. You will meet many typical Golok nomadic people on the way, they are strong and nice, and every aged people's charming face just looks like world classics and it is who, the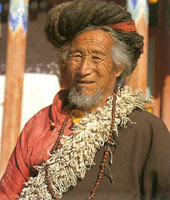 nomadic people live nearest to the nature for thousands of years. In order to make living, they have to struggle with those bad winters which might bring them terrible snow disasters occasionally and accumulated rich knowledge about life which also full of various romantic stories, greatly admired by the people who live in cities. We believe that because of their clean minds with kind hearts, most of their bodies remain much more instinct feelings to receive the positive energy from the nature and helpful waves from the monasteries. We will also visit one or two old monasteries on the way. Overnight local best Hotel with facilities
Day15 -- Padma (Banma) (B/L/D)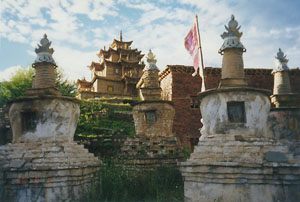 Banma (Padma) is not officially open for foreign visitors but we have permits to visit three old monasteries with distinctive features that will deeply impress you for a long time. You will be given an article from Oriental Art Magazine describing in detail each of these unique monasteries. The first monastery we will visit is Jonang Sect Yartangjia Gompa, founded in the 13th century. There are three beautiful chortens - tower-like temples with big eyes on them representing the eyes of Buddha. The main monastery suffered damage in the Cultural Revolution and ha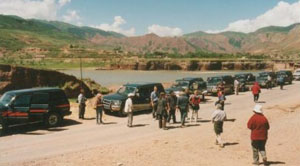 s not been rebuilt but a group of monks still live and pray here. Nearby is a most unusual stone complex called Jaree, belonging to another sect. Just down the road is the Nyingma monastery of Jangritang Gompa. There is a beautifully crafted wooden tower surrounded with about a hundred chortens of different sizes. The valley is beautiful and there is a nearby sky burial site marked by thousands of colored prayer flags.Overnight local best Hotel with facilities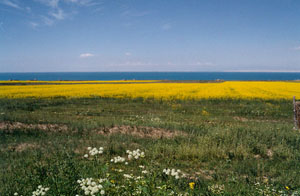 Day16 -- Padma (Banma) / Machen (B/L/D)
Today we drive back to Machen and en-route we may visit some nomadicfamilies to talk something you like about their life on the grassland.Overnight Machen
Day17 -- Machen / Xining (B/L/D)
Drive for360km (8hours) to Xining (Alt: 2200m). Another wonderful day for picturesque landscape while we drive: grassland with yaks and sheep, nomadic black and white tents. Along the Yellow Rive
r valley we will experience the red and Blue Mountains with colorful flowers and some barley land and forestry. This part of driving concentrates many futures of Amdo, the scenery is fantastic changeable geographically at every short distance.Overnight Xining 4 star hotel
Day18 -- Xining / Tongren (Repkong) (B/L/D)
We drive 30km to visit Kumbum Monastery, which has been well known for many centuries all over Tibet. The third Dalai Lama founded this Holy Monastery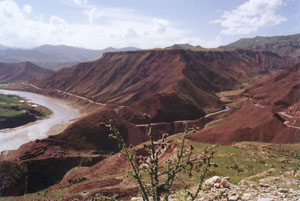 in 1560 tocommemorate the birthplace of Tsongkhapa, the founder of the Yellow Sect. It is one of the six important Gelukpa (the Yellow Sect) monasteries in whole Tibet and a center of Tibetan learning in Eastern Tibet. We can find many Tibetan nomads who come here for pilgrimage and to buy textiles for their clothing and jewellery along numerous Tibetan shops. Following this we will drive through the beautiful Ma Chu valley (Yellow River valley) to Repkong (Tongren). You will see unique landscape dotted with Tibetan, Chinese and Muslim villages where the farmers grow wheat, bar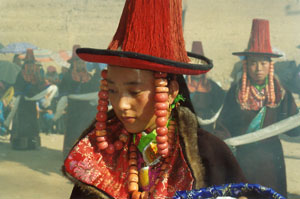 ley, rape as well as fruit and vegetables along the banks of the Ma Chu. Repkong is a charming Tibetan town with several monasteries in the immediate vicinity. Repkong is known to be the learning center for Tibetan Tangkha painting and all monks here have been well trained in the arts of painting and sculpting. The famous artists of this area are commissioned as far away as Lhasa and Shenyang in China, India, Burma and Mongolia to produce frescos and tangkhas for the most important monasteries. Overnight Repkong.
Day19 & 2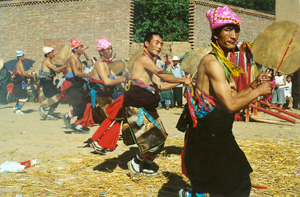 0 -- Tongren (Repkong) Shaman Festival (B/L/D)
The Tibetans of Tongren are Buddhists but in July there is a most unusual secular festival in each of the villages, which has its origins in pre-Buddhist traditions. The people reins act the Bon traditions and they worship the Mountain Gods. No monks of the yellow sect are allowed to watch. The shaman of each village conducts this important ceremony which honors the local mountain god and asks for the good health of the village and a successful harvest for the local community. On the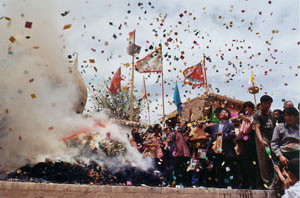 first day the image of the god is paraded round the village and gifts are given of wine and barley. In only one village in the second day goats are killed as a blood sacrifice to the mountain god. This ceremony is early in the morning and if you wish to avoid it you can stay at the hotel. In another village butter effigies of a goat, sheep and yak are burnt as a sacrifice to the god. Various ceremonies goon all day, watched by the whole of the village dressed in their best clothes. The male members of the village dance in front of the shaman and at the height of the ceremony long needles are placed in their back and through their mouths. The men continue dancing, with the needles implanted to the beat of the goatskin drum. Beautifully costumed women dance an elegant dance to the god. In-between costumed comedy skits are enacted by villagers. Each village ceremony is a little different and we will visit three different villages which have costumes and traditions.Overnight local best hotel ***
Day21 --Tongren / Labrang (Tibetan name: Repkong) (B/L/D)
Morning drive of 130 km.(about 4 hours) to Labrang. Alt: 2900 m. ( ft.) Pass through the beautiful Red Mountain Valley seeing grasslands, forests and agricultural land. Overnight at the Overseas Hotel, strategically located on the main street of Labrang. This hotel has internet access and a restaurant where you can buy a burger and rub elbows with travelers from all over the world. Overnight in Labrang at the Overseas Hotel
Day22 -- Labrang (B/L/D)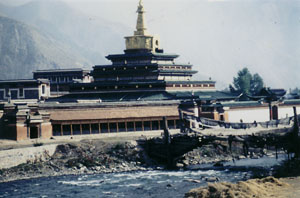 After breakfast enjoy a guided monastery tour. Labrang is one of the big six Gelukpa Lamaseries in Tibet. It is located in Amdo, a Tibetan area of Gansu Province. Once housing 4000 monks, Labrang was first built in the Qing Dynasty1709 and was the last of the major six monasteries that was built. However it was the most dynamic since it received tribute throughout from five different Emperors. Labrang has six academies including a very prestigious Philosophy College and Medical College. Do the Kora and explore the larger grounds of Labrang. After lunch visit the small nunnery and the local Tibetan town. We will see many Tibetan nomads here who have come on pilgrimage.Overnight in Labrang at the Overseas Hotel
Day23 -- Labrang / Lanzhou / Beijing (B/L/D
We drive for 5 hours to Lanzhou airport for the afternoon flight to Beijing. On the way, 2/3 first part of the road we pass the Chinese Muslim Hui people area with many Mosques along the roadsides. Lunch is in Linxia Hui Autonomous City, which is horned as "Small Hong Kong" by local people as you can buy anything you want in this Moslem city. There is one street specially selling Tibetan antiques and souvenirs, which is worth seeing for some time if you like. Overnight Beijing 4 star hotel
Day24 -- Beijing (B/D)
Free at leisure for the day. This evening we enjoy a farewell dinner with Peking Duck Banquet in local a nice restaurant. Overnight 4 star Hotel
Day25 -- Beijing / Back Home (B)
Depending on your departure flight time, you will be transferred to Beijing International Airport to take your flight back home.