Tibetan New Year Festival Losar & the Great Prayer Festival Monlam In Repkong (Tongren) and Ngawa (Aba)

Day01--Beijing / Xining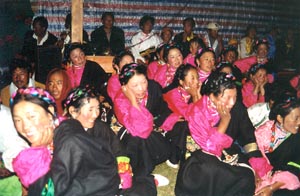 Arrival in Beijing in the morning and then take your connected flight to Xining, capital of Qinghai Province. Xining (Ziling), is situated on the edge of the Tibetan Plateau at 2200m and retains little trace of the old walled town (then called Shangcheng) that once was the main tea and horse trading post between Tang - China and Tubo Kingdom - Tibet. It was through ancient Xining that Princess Wen Cheng traveled to become the bride of Tubu King Songtsan Gambo in 641. The Princess was sent to cement good relations by her father the Tang Emperor. Princess Wen Cheng took tea and so began the import of tea to Tibet. It was known as Border Tea and it was traded for Tibetan horses. Also known to be a major stopping point on the ancient Silk Road, Xining is therefore a historically significant city worthy of some reflection. The population today is Chinese, Tibetan, Mongol, Muslim and Tu. People are much spoiled in this small city with local tasty foods supplied from clean and natural grassland nearby, and comfortable climate all year round when other places are suffering from cold winter, this sheltered city in a mountainous valley is bathed in a brilliant and strong plateau-like sunshine. During the festival days, the air is filled with the aroma smell of highland barley wine; it seems that only here you can feel the holiday atmosphere in manner of generosity and hospitality, a wonderland to go to experience a real humankind life: Happiness.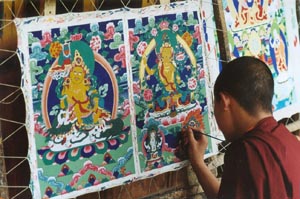 Day02-- Xining / Kokonor / Xining
We drive for 3 hours to Kokonor, the biggest holy lake of Tibet and the largest salt lake in China. It covers an area of 4581 square km. About three thousands years ago, Mongolian and Tibetan nomadic people believed that all of the holy lakes and the holy mountains contained unique treasures or minerals. Those minerals give out a kind of magnetism or spirit to a few special sensitive Masters, like Shamans or Living Buddhas. The Masters then teach people how to respect and protect nature in order to receive the good luck waves from those holy mountains and lakes. The beneficial waves emitted can help one to have a good fate in life. In May of 1578, King of the Mongols, Altan Qan gave the title Dalai Lama 3 to Sonam Gyatso at the east shore of Lake Kokonor. This was the start of the "Living Buddha" system of Gelukpa. After sightseeing by this beautiful ice covered lake and lunch, we take another road through a large sedum area back to Xining. Overnight 4 star hotel
Day03-- Xining / Kumbum / Repkong (Tongren)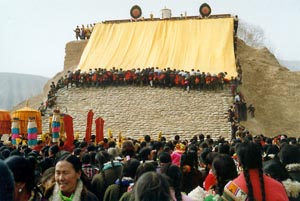 This morning we drive for 30km to visit the famous Kumbum Gompa, this monastery is one of the "big 6" Gelukpa monasteries in Tibet. Kumbum was built in 1560 by the 3rd Dalai Lama and is the birthplace of Gelukpa's founder, Tsongkhapa. His two major disciples, Dalai Lama and Panchen Lama, later on became the ancestors of the Tulku (Living Buddha) system. Tibetan art such as Butter Sculpture, Frescos and Applique from this monastery are famous. Today Kumbum houses 500 monks. Following this we will drive through the beautiful Ma Chu valley (Yellow River valley) to Repkong (Tongren). You will see unique landscape dotted with Tibetan, Chinese and Muslim villages where the farmers are immersed in a festival mood. Repkong is a charming Tibetan town with several monasteries in the immediate vicinity. Repkong is known to be the learning center for Tibetan Tangkha painting and the famous artists of this area are commissioned as far away as Lhasa and Shenyang in China, India, Burma and Mongolia to produce frescos and tangkas for the most important monasteries. Overnight Repkong 3 star hotel
Day04--Repkong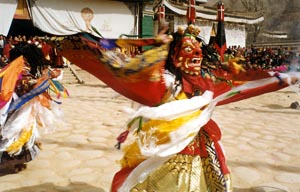 Drive 5Km to Upper Wutun monastery (Tib: Sengeshong Yago), a famous monk art school set up in 16th century. Now it has 90 monks, the youngest is 7 years old and all of them have a good training to be artists in this monastery. You can find their art works such as paintings and sculptures throughout Tibet. Masks dance (Cham) by monk artists here is wonderful. The main theme of the performances is to describe how all the Protector Deities kill the devil spirits that is made of barley flower in a box (Tib: Tukchuwa, meaning bad things need to be thrown away). The best part is to see when monks burning the devil things at the end of Dance in the field near the monastery. You can not imagine how happy the whole village people is when seeing the Tukchuwa is burning and hundreds of village men let off countless firecrackers together... The moment in this atmosphere, can arouse you a strong feeling of self-confidence towards New Year. It seems no any difficulties can stop your steps to a bright future. Overnight Repkong 3 star hotel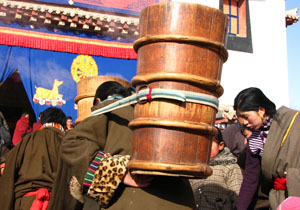 Day05--Repkong
In the morning, we visit some important monasteries in different villages including Longwu ( Rongpo Gonchen ) Monastery, an important and the local biggest monastery, built in 1301. It once was the political and administration center in Repkong area. Now it has 450 monks. Then to visit Gomar monastery built in 1741 and now it has 160 monks inhabited. This small but beautiful monastery is famous for its colorful 7-storey Astronomy Stupa (Dhekor Kalachakra). Afternoon we go to take part in the ceremony of a big Applique Tangkha Display (Khakhl Sham) in Lower Wutun (Sengeshong Mago) starting from about 12:30pm to 2:00pm. Prostrating with pure mind in front of this big Tangkha is believed to receive auspicious power from the Buddha and makes people happy with great satisfactory. Overnight Repkong 3 star hotel
Day06--Repkong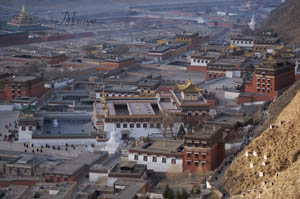 This morning we drive for 7Km to Guomar moneastry again to enjoy the New Year ceremony of Butter Tea and Bread which were blessed in the monastery and offered from different tribes in this village then follows a big ceremony of Displaying a big Tangkha. The whole procession is exiting. As this grand event happens only once a year, all the village people is eager to do prostration in front of big Tangkha of Buddha which is 40m long and 20m wide, at the beginning of the year to thank Buddha for the passed year and to pray for good things in the coming year. Overnight Repkong 3 star hotel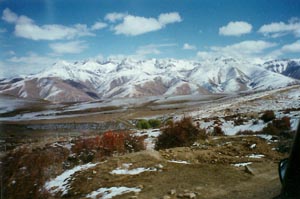 Day07--Repkong / Labrang
Drive 4 hours through a very nice valley to Labrang monastery. The valley looks like "Grand Canyon" but afterwards we will drive into the beautiful grassland where we can see yaks and sheep and visit to Nomads families on the way. Labrang monastery is one of six great Gelukpa (Yellow hat sect) monasteries in Tibet, was founded in 1709, housing now 1000 monks. As Labrang and Kumbum (Ta'er si) are considered as important institution of higher learning in East-Tibet, during the New Year Festival time, here attracts thousands of Tibetan people for pilgrimage, among them a lot of nomads families from far away. After lunch we enjoy a guided Labrang monastery tour. Overnight best available hotel with facilities and good heater
Day08--Labrang / Dzoge (Roergai)
Drive for 290km to Dzoge County (Roergai, Alt: 3400m). In Dzoge, we stay in Dzoge hotel. Rooms have facilities and heating, 8pm to 10pm have hot water for shower. We drive through some rolling grasslands along the tributaries of the Yellow River, which flows slowly, and water is so clean that looks like a long winding mirror reflecting blue sky with white clouds. The grassland appears at this season just like a very clean vast yellow carpet, sometime decorated with flocks of black moving yak and white sheep at sides of the road. Some high snow mountains stand far away behind the yellow grassland. The fresh air under the strong sunshine on the plateau makes you greedy to breathe deeply. Today we pass the Mt. Amnye Lhago Range (Xiao Er Lang Shan) at 3800 meters. Overnight Dzoge Hotel
Day09--Dzoge (Roergai) / Aba ( Ngawa)
Drive 300km to Ngawa (Aba Alt: 3200m), we will cross over two passes, the first with an elevation of 4000m and second 3700m where you will have great views to look far into the distance. In Tibetan Ngawa means: Men who beat drums. The old people explain Ngawa is the first place where the King Songtsen Gampo conferred and awarded the title to warriors during the 7th century. For centuries, Ngawa is one of the largest nomadic areas in Eastern Tibet. As one of the important Tibetan cities in Amdo and the central of Tibetan culture, religion, trade and communication, you will have a strong feeling of atmosphere of real Tibetan culture and life here. Especially during the festival time, as this area has not yet formally opened to foreigners for a long time, the strong local culture has less influenced from other nations till these days. The way of their celebrating the festivals is still keeping strong old traditional way during the New Year (Losar) time and monastic event "Monlam" in different sects' monasteries. Highlights to see are Jonangpa and Benpo monasteries' different and unique celebrations including dresses of monks, masks Cham dances and the way of pray as they all are rear to see in whole Tibet nowadays. Overnight Nianbao hotel
Day10-- Aba ( Ngawa)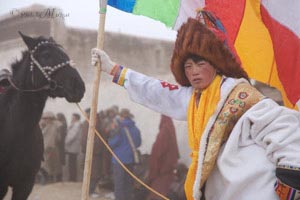 We drive for 2km to Kirti Gonpa, the largest Gelukpa monastery in Ngawa, built in 1472 by one of disciples of Tsongkhapa and it has about more than 1000 monks now. At 9:00am, about 3000 monks pray together in Assembly Hall, some monks come from other monasteries nearby. The very low and high tones from their chanting fill the air and seams to purify everything. Can easily make your brain empty and make your body blood circulation smoothly. At about 9:40pm, a ceremony for Sunning the Buddha begins and a big Tangkha of Tsongkhapa displays on a huge Tangkha Wall behind the monastery. The Ceremony of Displaying Big Tangkha (Khakhl Sham, meaning: Applique Tangkha Show) first held in 1468 by the first Dalai Lama, Gendun Drub (1391-1474). At beginning the size of the Tangkha was smaller and after 4th Panchen Lama, Lobzang Chokyi Gyeltsen (1567-1662), the size changed to bigger and bigger till present size. In Ngawa many ceremonies during the New Year Festivals (Losar and Monlam) are still held in old traditional ways. After lunch we drive 3km to one of the oldest and few sect Jonangpa Setenling Gonpa to see a very different ceremonies of Sunning the Buddha and Turning the Maitreya Buddha. Jonangpa or Jonang Sect was first founded in the middle of 13th century, till 14th century, this sect became one of the strongest religion in Tibet and spread to Amdo at that time. During 17th century, the fifth Dalai Lama changed most Jonangpa monasteries to Gelukpa, and only few were left in remote area, such as in Zamtang, Pema and Ngawa. After Jonangpa monastery festival, we drive back to Kirti Gonpa to see a heated Knowledgeable Debating by monks in front of thousands of nomadic people. Then to see a competition of feats of strength by the fighting monks (Dobdo). Usually this activity is held by the monks, but at this monastery it has been held by the local people for the last couple years. Overnight Nianbao hotel
Day11-- Aba ( Ngawa)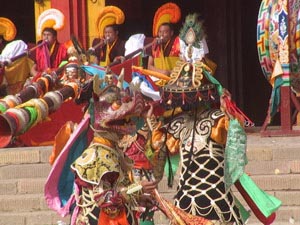 At 9:30 am, first we see a guard of honor of 70 nomadic men with their own decorated horses who were selected from a tribe, which gives majority donation to the monastery this year. All men are strong and well dressed with colorful traditional decorated Chuba. After one hour, Masks Dance by monks starts accompanying strong monastic music. The dance is quite different from other monasteries we see in Repkong. The mask dance starts at 10:30 am and runs till 6 pm. The fire prayer (Trogyak) starts at 4 pm. If you like you also can go to see the Cham dance in Gomar Monastery which is located 20 km north of Ngawa (town) and is also a very important branch of Kerti Monastery. Overnight Nianbao hotel
Day12-- Aba ( Ngawa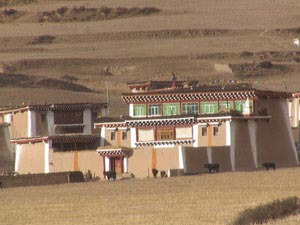 Drive to Nangshuk (Narshi) Monastery, the largest Bon monastery in Tibet. It is a branch monastery of Mingling in Western Tibet. There are 800 monks living there. They practice both Bon Tantra and Sutra. You can also visit the Bon College and Hospital in the monastery. In the morning, you can see the circling dance, which is an unusual festival in Tibet. All the monks walk around the temple playing religious musical instruments. After the festival you will have time to visit Tokden Monastery (Bon) which is located east of Nangshuk Monastery. The whole monastery has been rebuilt recently. The monastery also has a mask dance ten days before the Nangshuk Festival. On the way to the hotel you can visit some of the local Tibetan families and wonderful wooden houses. Stay in the same hotel. Overnight Nianbao hotel
Day13-- Aba ( Ngawa)
Drive to Nangshuk Monastery at 8am. The local people burn incense offering in front of the protector temple. This is one of the most important and highlights parts of the festival to see in Nangshuk. After the incense offering, all the local people walk to the monastery with horses and very fancy dresses. More than tree hundred herdsmen walk slowly to the crows; they hold different color flags and decorated horses. Wearing traditional typical nomadic chubas and hats, piling with jewelers on each one's body, they symbolize the treasures and backbones of Tibetan people in Amdo. In old days, they were selected from sharpshooters. They all appear bold and powerful manner with inflexible will. Usually the mask dance starts around 10 am till 6 pm. normally there some differences between the Buddhist masks and the Bon masks as far as visual appearance, but the meaning behind Bon & Buddhist mask dances can be very different. Overnight Nianbao hotel
Day14--Ngawa / (Barkham) via Markang / Damba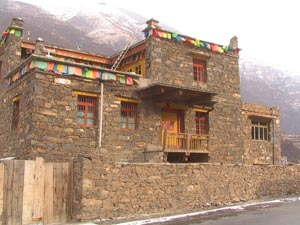 Geographically, during our today's 450km driving, after passing through several high mountain passes covering with snow and forestry, we leave the wild area of the upper reaches of the Yellow River and drive into the upper reaches of the Yangtze River's high mountainous and deep valleys area. Because of different living environment, we will see different tribes of peoples, the Qiang people and Tibetan Gyarong and peoples with distinctive habit, costume and dialects, who live not only on the grassland but also forestry and agriculture farmland along countless tributaries of the Yangtze River along deep in awesome and unwelcoming Gyarong gorges, where was at times the most powerful of the Gyarong kingdoms, and its king was a vigorous proponent of the Bon religion. In old days almost every family has its own blockhouse built with stones, ascending to heights of between 30-60 meters, which kept the powerful sino-Manchu armies at bay for 10 years during 18th century. Overnight Gyarong Tibetan Family Hotel
Day15--Damba / Yajiang
This morning we drive for 360km to Yajiang for overnight, en-route we enjoy nice view of Gyarong Tibetan villages and thier houses. Overnight Yajiang Hotel
Day16--Yajiang / Chengdu
This morning we visit Panda reserve area and then we drive for 140km to Chengdu. Overnight Chengdu 4 star hotel
Day17--Chengdu / Back Home
Transfer to International Airport and fly back to home.